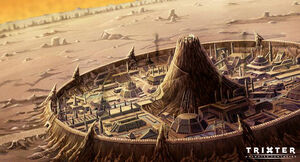 Through the clear, dry air, the midnight sky was a black as the Dragon's heart. The parched Tablelands were lit by the pinpoint brillance of a thousand unchanging stars. The brutal heat of day yielded to the bone-numbling cold of night, as it had every other day in both living memory and enduring legend. Days, years, and mortal lives churned relentlessly from birth to death. The cycles were endless and invariable.
Sources
Community content is available under
CC-BY-SA
unless otherwise noted.